Discover Us
Fire Protection Engineers
‌

Our Quality Assurance Procedures
Health & Safety
All works undertaken by Solent Fire shall be carried out under rules and guidelines set out under the Construction (Design and Management) Regulations 2015. Upon acceptance of our quotation we shall produce a Health and Safety package consisting of Proposed Method of Work Statements, a Risk Assessments and other Health and Safety documentation.
In accordance with our Quality Assurance procedures, throughout the installation process and upon receiving deliveries on site, all materials shall be checked against the relevant purchase order to confirm that they are fit for purpose.
Work With Us
LPCB Certification
LPCB Approved Sprinkler Contractor (Certificate No. ASC-057): Our Level 3 Approval status enables us to carry out all works to the LPCB standard and self-certify in most cases. The achievement of this status is the result of maintaining a consistently high standard of design and installation for which we are audited on a regular basis, so clients can rest assured we cut no corners. Furthermore, our engineers have a range of official qualifications from the LPCB and our emphasis on training from our regulatory body means we have an enviable level of expertise.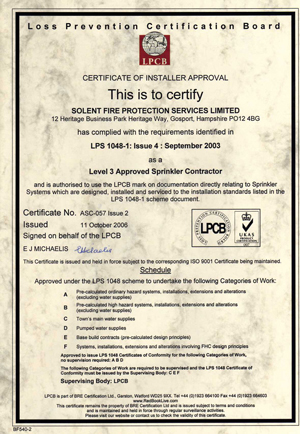 ISO 9001 Certification
LPCB Management Systems: Our management procedures are certified to ISO 9001 standards by our regulators the LPCB. The purpose of this accreditation is to show we meet a high professional standard in the processes of working we have in place and demonstrates Solent Fire is a competent and reliable company with a continued commitment to an excellent customer service and the delivery of all our contractual and regulatory obligations.
BAFSA Membership
British Automatic Fire Sprinkler Association: BAFSA is the UK's trade association for the fire sprinkler industry and is a trusted authority on the benefits and importance of fire sprinklers in all environments where they can be deployed. Solent Fire has full membership of this association and can be found on the BAFSA list of installers. BAFSA works closely with the government, fire authorities and insurers to ensure sprinkler systems are installed to the highest professional standards and requires its members to adhere to strict guidelines.
TESTIMONIALS
What
Our Clients

Say

"
Solent Fire Protection have recently installed, tested and commissioned an automatic sprinkler system for our Client in Southampton. We would have no hesitation in recommending Solent Fire to future clients due to their excellent performance on this project, sometimes in extremely difficult circumstances. Solent Fire's attitude and responsiveness have been first class from pre-contract through to handover of the installation.
"
May I thank you and your team for the exemplary work carried out over the last eight months at our Portsmouth Data Centre. Not only did you turn this project around in record time, but the professionalism of your engineers, is a credit to your company. At all times, they kept us informed as to the progress of the works, and they also finished the job within the allocated time scale. It has been a pleasure working with yourselves, and I would thank you for passing on our comments to your team.
"
I just wanted to take a moment to say, "Thank you" and acknowledge the outstanding quality of services and workmanship that Solent Fire have provided over the many years … I am looking forward to the continuation of our close relationship.
"
We pride ourselves on how well we take care of our customers, so we appreciate how well Solent Fire represent us.
"
I would definitely recommendSolent Fire. We had expert adviceon which sprinkler system wasright for our building project andthey have been very efficient,clean and on-time withtheinstallation.